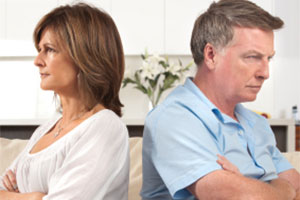 Did you know that January is the most common month for divorce? In fact, it is sometimes known as Divorce month. There may be many reasons for this – it is just after the holidays; couples may decide that they need a fresh start for the new year and that it is to let go of things that are no longer healthy. If you are finding yourself looking ahead to the new year with divorce on the horizon, we can help. Johnson Mediation specializes in divorce support for couples in Minnesota. We offer a wide variety of services to help you navigate the divorce process with less stress and more control over the outcome.
Planning For Divorce
Divorce is known as one of the most stressful of all life events. It marks great change in your life and the life of your entire family, so it is not something that couples take lightly. In fact, many couples spend many months (or years) contemplating divorce before they actually move forward with the process. You may assume that the only way to settle the terms of your divorce is to hire two expensive lawyers and fight it out in court. However, you should know that the state of Minnesota now encourages all couples to try mediation before litigation. The biggest reason is that the court system is backed up and cannot complete divorce proceedings in a timely manner. Since mediation is a highly effective alternative dispute resolution tool, many couples will find that they never need to hire lawyers and engage in a court battle.
Divorce Mediation Is A Highly Effective Tool
Johnson Mediation understands the difficulty of divorce, in fact, our founder, Jeff Johnson, has been through a difficult divorce himself. So, he brings empathy and compassion to each divorce case he works on in addition to his professional experience and skills as a trained mediator. Jeff can help you focus on your future and make decisions that will put your family first. Mediation can sort out all outstanding issues including how to equitably divide the property and assets that you share, how to develop a parenting plan (or custody agreement) that works for your family and whether or not to consider spousal or child support.
So, if you are heading into 2023 and thinking that divorce may be on the horizon for you, consider ways to make it go smoothly and cause less stress for everyone you love. Partner with Johnson Mediation for assistance with divorce mediation, divorce coaching, or parenting support services to help you find your way forward and minimize the pain. For more information or to schedule a free consultation, give us a call at 952-401-7599.