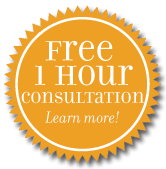 The goal of divorce mediation is to assist a divorcing couple to find common ground and settle the difficult aspects of a divorce with less animosity, less stress, while using fewer financial resources. A mediator is a trained professional who serves a neutral third party to facilitate discussions that can ultimately result in compromise around issues such as division of property, assets and debts, child/spousal support and development of a parenting plan (otherwise known as a custody agreement). The divorce mediation process is more simple than you might expect, following the basic set of steps below. Johnson Mediation serves divorcing couples in the Chanhassen, Richfield, and Bloomington, MN area and would be happy to partner with you to help you find resolution through this difficult and painful process.
What to Expect With Divorce Mediation
● Establish contact with a divorce mediation team. Johnson Mediation offers free one hour consultations so that you and your divorcing spouse can ask questions, gather information and make sure that it is the right fit.
● Mediation is an entirely voluntary process, so both parties must agree to proceed with divorce mediation as a means of settling their divorce.
● Once both parties have agreed, several mediation sessions can be scheduled. The entire process can usually be completed in 3-4 two hour sessions.
● In the first session, participants along with the mediator identify the most important issues that need to be resolved. In addition, information that needs to be gathered and shared is identified. This information might include financial data and sometimes opinions of experts such as appraisers or accountants.
● Additional sessions focus on how best to resolve the various issues in order to meet the needs of both parties. The mediator assists by providing information about the court system and common ways that divorce issues are resolved.
● At the conclusion of mediation, the mediator documents the agreements for review by each of the participants and their attorneys, if needed.
Divorce Mediation Services, MN
Johnson Mediation, led by Jeff Johnson, can help you navigate the entire process with much less stress than a lengthy court battle. Mediation can be successful for even a contentious divorce with high conflict. Our team has experience, tools and resources that can help divorcing couples move forward keeping their family as their priority. Mediation also costs nearly two to ten times less than a traditional divorce, which can also reduce the overall stress. For more information about the mediation process or to make an appointment with the Johnson Mediation team, call (952) 401-7599.