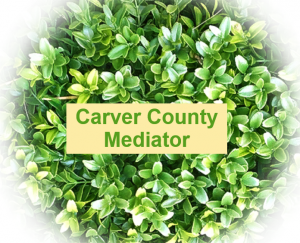 If you and your spouse have decided to divorce and use divorce mediation services to settle the important issues like division of property and child custody, then your next important step is to find the right mediator for you. Johnson Mediation is a trusted Carver County divorce mediator with extensive experience in Minnesota law and we bring care and compassion to each case. Our team can help you resolve all aspects of a divorce settlement and ensure that you and your family are in a strong and positive position to move forward toward your future.
Here are some important tips for choosing the best mediator to help you navigate your case.
1. A good divorce mediator focuses specifically on the area of divorce mediation. This ensures that your mediator has adequate expertise and training in family and divorce law in your state and can help you through the process with ease and less financial and emotional stress.
2. A reputable divorce mediator will have information readily available about their experience and be willing to talk to you about your case before you commit to working with them. You should consider speaking with several divorce mediators and deciding to work with the one that the experience and temperament that you are looking for.
3. A divorce mediator should be affordable and build your trust. Compassion for your situation is a critical part of the mediation process. Affordability and compassion builds trust and allows you and your soon to be ex-spouse to be comfortable and confident as you navigate the process.
4. A strong divorce mediator will have experience understanding complex financial matters as well as parenting issues. Determining how to divide joint property and assets and helping couples come up with a workable parenting plan are critical aspects of a successful divorce settlement.
5. Good divorce mediators are good listeners. A mediator's job is not to make decisions about your case but to listen to your goals and priorities and then guide you through mediation sessions where YOU can make decisions that work for your family. Mediation gives you the control of your future, rather than leaving this in the hands of a judge.
Divorce Mediation Services, Carver County, MN
Johnson Mediation would love the opportunity to talk to you more about divorce mediation and your unique case. We offer free consultations so that you can learn more about the process and our philosophy to make sure that you have the chance to ask any questions you have. If you live in the Carver County, MN area, call Johnson Mediation at (952) 401-7599.