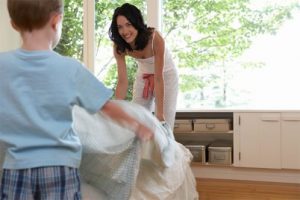 When you had children, you probably never thought about what it would be like to split the time that you spent with them. You may have envisioned a life where your family lived together under one roof and you saw your children each and every day. However, life does not always go as planned and sometimes couples decide that they need to separate and/or divorce for a variety of reasons. When that happens, there can be significant conflict about parenting time is divided between the two of you. Making decisions about parenting time after a divorce or separation can be one of the most stressful aspects of the process for both parents and children. Johnson Mediation can help you successfully navigate this process and offers parenting time support for those in Chanhassen, MN.
Johnson Mediation offers a wide variety of parenting support services for couples that are trying to determine an agreement for dividing time spent with children. In addition to our exceptional mediation services, which can help facilitate open, honest and productive discussions about parenting time that result in real solutions, we also offer the following parenting time support:
Parenting Time Expeditor: A parenting time expeditor helps resolve issues involving children, specifically related to parenting time. Your parenting time expeditor serves as a neutral third party that can help resolve issues without having to proceed through the courts. Many disputes can be resolved with the parenting time expeditor services offered by Johnson Mediation, including concerns about one parent interfering with the other's parenting time, addressing issues like how to make up scheduled time if it was denied or missed, etc. The parenting time expeditor will gather information and meet with both parties and then make a decision about the case. If one or both parties do not agree, you can then proceed through the court.
Working with a parenting time expeditor can save you significant time, money and stress and keeps the issues you face privately.
Parenting Consulting: Parenting consulting is another service offered to those in Minnesota that is meant to help parents resolve complex issues related to their children, including parenting time, discipline, and different parenting styles. A parenting consultant can help you develop strategies for effective co-parenting after divorce so that you are less likely to have to use the courts to solve issues that come up for you and your family, while always putting your children's needs first. A parenting consultant does have the authority to make decisions, but you do have the right to take the issue to court if you do not agree.
Parenting Time Support Services in Chanhassen, MN
There is no denying that making decisions about parenting time is extremely difficult, emotionally and logistically. This is why Johnson Mediation has devoted significant effort to providing strong parenting time support to families in Chanhassen, MN. For more information, call us at (952) 401-7599.