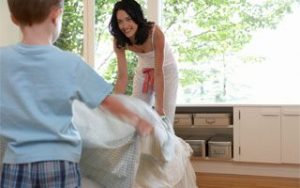 Divorces that involve children can be extremely complex, and many issues must be addressed in order to minimize the impact on children and navigate a path forward. One such issue is that of the amount of time your children will spend with each of you. Johnson Mediation of Chanhassen, MN can help you find the best possible solution to questions related to the division of time. If you and your spouse are seeking divorce and have children, Johnson Mediation can help you successfully navigate the difficult process of settling a divorce.
Johnson Mediation offers what most traditional divorce lawyers, working through the traditional court systems and processes, cannot. Our team bases its service in advocacy for you, treating you as an individual, and will help you work toward the best possible solution for all those affected by your divorce. When you enter the process of divorce, things get pretty complicated very fast. You will want to know that you can count on your mediator to work toward your best interests, and those of your children and even your soon-to-be-ex-spouse, during and after the proceedings are complete.
Role of a Parenting Time Expeditor
Johnson Mediation can help you ensure that the dissolution of your marriage results in the correct distribution and navigation through the processes of separating assets, resolving debts, splitting retirement accounts, resolving loans, and most important of all, creating a workable parenting plan when children are involved. Our mediators are also trained parenting time expeditors, which means they can also help you and you divorcing spouse resolve parenting time disputes, both during and after a divorce. A Parenting Time Expeditor is a trained, neutral third party that will facilitate resolution of disputes without lengthy and costly court battles.
Using a parenting time expeditor is ideal for situations in which you may have concerns that you may be denied an upcoming scheduled parenting time, or to determine a process for making up parenting time that might have been missed. Johnson Mediation's parenting time expeditors can also intervene if one parent is interfering with the parenting time schedule. A Parenting Time Expeditor can be appointed by the court, or can be hired by one of the parents. Our parenting time expeditors will have at least 40 hours of family mediation training as well as training surrounding domestic abuse issues.
Parenting Mediation and Divorce Mediation Services
Johnson Mediation has earned a strong reputation because the staff members care about their clients and work to find the best possible solutions. The Parenting Time Expeditor service is but one of the many mediation and parenting services we offer that can be helpful as you enter a very complicated time of life. Call our team at (952) 401-7599 for more information.