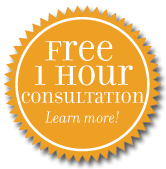 In the state of Minnesota, the court actually requires you to make a good faith effort to settle the terms of your divorce using an Alternative Dispute Resolution (ADR) technique BEFORE engaging the courts and a judge. Mediation has become a popular and highly effective tool for resolving all aspects of a divorce settlement, including division of joint property, development of a fair and equitable parenting plan (also known as a custody agreement), and determination of whether spousal and/or child support is necessary in your case. Johnson Mediation can help guide you through the entire divorce mediation process from start to finish. If you are just getting started with the divorce process or if your case has been referred to mediation by a judge, our team can help you resolve the outstanding issues you face.
Mediation Makes Divorce an Easier Process in Carver County, MN
Every divorce is unique and the team at Johnson Mediation works creatively to foster an environment where you and your spouse can find common ground, ways to compromise and a path forward. Mediation is far less expensive than proceeding through the courts and can take less time as well, allowing you to focus on your future, rather than the pain of your past. Mediation is far easier for you, your spouse and your children. A court battle is, by nature, highly adversarial and can add conflict and emotional stress to an already difficult situation. Divorce mediation generally reduces the overall conflict between parties, which can benefit all involved and set a positive tone for interactions after the divorce is final.
Divorce is very often just the beginning of a new part of your relationship with your former spouse. If you share children, you will need to co-parent after divorce. Mediation is also ideal for issues that come up between you and your former partner after your divorce is final.
Minnesota Comprehensive Divorce Mediation Services
Divorce mediation is entirely confidential and can offer you some valuable flexibility when it comes to the flexible and unique solutions that you can find. No one knows your situation better than you – no judge or no attorney has the depth of information required to make the best possible decisions about your future. Mediation empowers you to do just that. If you have been encouraged by a judge to seek mediation or for more information about our divorce mediation services, call Johnson Mediation at 952-401-7599.