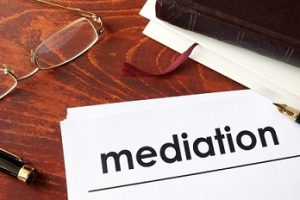 If you are like most divorcing couples, you have never gone through the divorce process. It can seem overwhelming, stressful and difficult. If you have chosen to pursue divorce mediation to resolve the terms of your divorce, you will want to be prepared for that process to maximize efficiency and give yourself the best chance for success. Here are some tips for how to prepare for your first divorce mediation session:
1. Items to bring or have ready: Your divorce mediator will likely provide you with a list of all items that you need to bring with you to the first mediation session (if in person). You can send these ahead of time electronically if you prefer. So, it is helpful to spend some time before the session gathering the following:
Financial documents (pay stubs, bank statements, retirement information)
Detailed list of assets, property and debts
Any court documents that have already been filed (separation agreement, etc.)
List of things that are important to you and that you want to discuss with the mediator (custody, holiday time with your kids, etc.)
Your calendar so that you can easily schedule a time for the next mediation session.
Payment: You should negotiate the payment rate and method ahead of time and be prepared to make a payment at your initial meeting.
Open mind: Mediation requires that you and your spouse work together to find solutions to issues like how to divide your property and how to share custody of your children. Try to leave the intensity and emotion behind and focus on keeping an open mind and having a productive discussion.
2. Be prepared to discuss the following topics: Much of the discussion will be guided by you, your spouse and your family's unique needs, but below are some topics that are commonly covered during divorce mediation sessions:
Child Custody
Child Support
Spousal Support
Division of property, assets and debt
Insurance coverage changes
Communication plan after divorce is final
Johnson Mediation is a local mediation company that specializes in helping families navigate this process. Jeff Johnson, founder and owner, has dedicated his career to helping couples make sense of the process so that they can move forward with their lives. Jeff has been through a difficult and contentious divorce himself so uses the combination of professional skill and personal experience when he works with couples. For more information about divorce mediation services, call us at 952-401-7599.