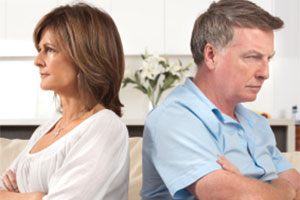 Divorce is one of the most difficult and stressful experiences an individual can face. There are ways to mitigate the stress of divorce, including deciding to pursue mediation as a way to settle the important terms to end your marriage. Johnson Mediation specializes in divorce mediation and can help you navigate this difficult process.
Our team offers comprehensive divorce mediation services for divorcing couples in Hennepin County, MN. We can reduce the stress of divorce by offering an alternative to court-based divorce processes. Though many couples still seek divorce by employing trial lawyers and proceeding through the courts, a more desirable alternative has gained popularity in recent years. Mediated divorce is that alternative, and it is offered by Johnson Mediation with professionalism, with emphasis on helping couples resolve differences and exceptional command of the divorce laws of Minnesota.
Benefits of Divorce Mediation
For couples with intractable differences and/or complicated issues surrounding joint property, the court system may still be the best alternative. But for most couples, those who may have severe differences and for whom divorce is clearly their best course of action, divorce mediation is likely the best option. When you work with Johnson Mediation, you will find that the commitment to resolving conflict and separating co-owned property likely reduces the stress you have felt leading up to the process. The divorce mediators at Johnson Mediation are exceptionally good at facilitating the conflict resolution processes, which will help you and your divorcing spouse recognize the areas of common ground that you still possess, despite the fact that you have chosen to seek a divorce.
This quality becomes especially important for couples who have children. In many such cases, parents' stress is heightened by the fear that the stress of their divorce will result in some kind of damage to their children's well-being. When their divorce processes are mediated by Johnson Mediation; however, parents are encouraged to find ways to recognize the common ground that exists between them and their divorcing spouses. The well-being of their children feels less likely to be threatened by the divorce process as a result.
Divorce Mediation Services, Hennepin County, MN
Another important benefit to a divorce that is mediated by Johnson Mediation is that it is far less expensive than a court-based divorce process. To be able to enter into your divorce process with the knowledge that you will not have the added stress of the exorbitant cost of court-based divorces is likely to reduce your stress further. With that stress reduced, you can focus on the truly important issues, such as your children and getting on with your life.
We offer a free one-hour consultation. To schedule yours, call Johnson Mediation today at (952) 401-7599.