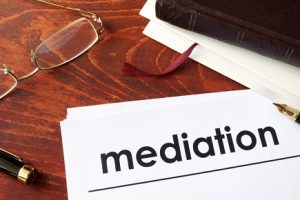 While divorce means that you are legally separating from your spouse, you and your spouse are certainly not the only two people who are impacted by the decision to divorce. If you share children, then you are likely trying your best to navigate the difficult process while keeping their best interests at heart. Using an alternative dispute service like divorce mediation to settle the terms of your divorce can help you stay focused on your goal of protecting your family and resolving issues in a healthy way. Johnson Mediation can help you stay focused on you, your family and your future throughout the divorce mediation process.
Litigation versus Mediation?
Litigation is by definition an adversarial process. It sets you up against your former spouse and puts you in a win/lose battle. Unfortunately, in most cases, even when you are the one that gets what you want, your entire family can lose. Conflict only increases in a court battle and can really take its toll on your kids and make them uncertain about how their life will be moving forward.
Mediation, on the other hand, offers you and your ex an opportunity to find a way to compromise when it comes to settling the terms of your divorce, and can lay a positive foundation for the future of your family. Even when your divorce is final, you will continue to maintain contact with your ex, as co-parenting partners. Mediation empowers you to put into place a plan that will work for your family's specific situation. You do not have to place that power in the hands of lawyers and a judge who do not fully understand the dynamics of your family. Mediation allows you to find solutions that put your family first. In addition, because the cost of mediation is less than litigation and it takes less time, mediation is far less stressful on a family than litigation.
Put your Family First During the Divorce Process
Protecting your family from unnecessary pain during the divorce process can be another benefit of mediation. You can actually model positive behavior to your children and show them that you and your ex can work together on their behalf. In addition, mediation can be used even after your divorce is final when issues come up that need to be resolved.
For more information about partnering with our team for a family focused divorce, call 952-401-7599 or email jeff.johnson@johnson-mediation.com.