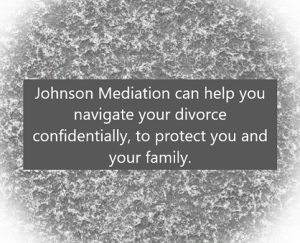 It is estimated that between 70-85% of cases that go through mediation are settled. When you stop and think for a second, that is pretty remarkable, in large part because each and every one of those cases are trying to settle a dispute. The two parties often do not agree about how the dispute should be settled, so they need professional assistance to sort this out. When it comes to divorce, the disagreements between the two parties are compounded by the emotion, sadness and pain of realizing that your marriage is over. Mediation is considered so effective that the Minnesota court system is now recommending that all divorce cases go through mediation before going through the courts. If you are coming to terms with the idea of a divorce, Johnson Mediation can help you navigate this process with less financial and emotional stress and with a more positive overall outcome.
Benefits Of Divorce Mediation Over Litigation
Divorce mediation is an alternative dispute resolution tool that can settle all aspects of a divorce including dividing joint property (as well as joint assets and debt), developing a parenting plan and/or custody agreement, and deciding whether or not spousal maintenance or child support is warranted. Mediation gives you the opportunity to work with a third party to sort through these issues and come up with a solution that is best suited to meet the needs of your family. After all, how can you expect a judge to be able to make a better recommendation than you and your ex about what is in the best interest of your family?
The team at Johnson Mediation has been working with families all over Minnesota to resolve the terms of their divorce for many years. In the last several years, we began offering virtual mediation sessions in addition to in-person sessions and have found these sessions to be extremely beneficial to our clients as well. The bottom line is that mediation can save you time, money, stress and lay a positive foundation for future discussions and negotiations. For many couples, divorce does not mean the end of your relationship entirely (especially if you share kids), but a shift in your relationship. Mediation can give you strategies for managing this new relationship in a positive and productive way.
Minnesota Divorce Mediator
Mediation is a highly effective way to settle the terms of your divorce and the team at Johnson Mediation brings together professional experience, skill and compassion to help Minnesota families through this difficult time. For more information about our mediation services, call us at 952-401-7599.