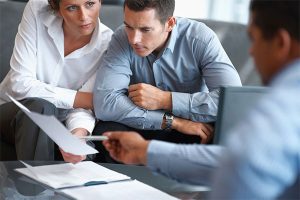 The team at Johnson Mediation is probably best known for helping Minnesota couples navigate the divorce process. Divorce mediation makes up a large part of what we do each and every day. However, what people might not realize is that we can provide all types of support for local couples, whether they are considering divorce or not. The resources, support and strategies that our staff can offer can benefit couples no matter whether you are moving forward with divorce, were divorced many years ago, or just a bit unsure of your future together. We provide these services online.
Comprehensive Support For Couples In MN
Marriage is complicated and can be difficult at times. It can be helpful for couples to have professional resources available to help you when you need them. In fact, these professional resources can even keep you from needing divorce in some cases and can be helpful long after your divorce is final. Johnson Mediation can provide you with mediation and parenting support resources at any time. Our staff is knowledgeable, highly professional and has extensive experience providing mediation services. The mediation process is helpful in resolving all types of disagreements from parenting issues to financial disagreements, and to other family related disputes.
When you are thinking about the future of your marriage, you may have questions about how things would work if you decided to move forward with a divorce. For example, you may wonder about things like custody agreements, dividing property. You and your spouse may even benefit from talking through the issues that you face with a trained mediator in an attempt to avoid divorce. Mediation can also be extremely helpful after a divorce is final when a divorce agreement needs to be amended. This can be handled without a trip to court, which can save you time and money.
What Is The Role Of A Mediator?
A mediator will not make decisions for you but will instead provide a forum for you to engage in positive and productive discussion with your spouse, ask questions, and gather information about the process and next steps. All decisions are up to you – you can go at your own pace, get the information you need to inform your decisions.
Johnson Mediation offers in person and virtual mediation services, depending on your preference. We have found that virtual mediation is highly effective and efficient and can work well for couples whether they are navigating the divorce process or just want to explore options and gather resources. Post-divorce mediation can also be completed virtually or in person. For more information about our comprehensive mediation resources, call Johnson Mediation at 952-401-7599.