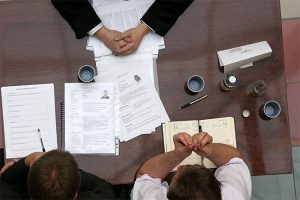 Co-divorce mediation is a process that uses two different mediators to help resolve issues during the divorce mediation process. Very often, the two mediators' styles complement each other in some way, using the strengths of each mediator to give a couple the best possible chance of success in the process. Johnson Mediation participates in co-divorce mediation services in Victoria, MN. Jeff is a highly experienced mediator with extensive professional experience in addition to having been through a difficult divorce himself. Jeff's ultimate goal is to help couples make sound and productive decisions related to issues such as dividing property, child custody and spousal maintenance.
Benefits of Co-Mediation
Co-mediation can be highly effective, using a collaborative approach to solve even the most difficult issues related to your divorce. When you use two mediators you get two different perspectives, and more unique ideas about how an issue might be resolved. This process can yield creative, workable and productive solutions that would not be possible in a traditional court battle. Co-mediation is based on the idea that two heads are better than one. This can be particularly helpful when you and your divorcing spouse have different ideas about characteristics to seek in a mediator. When you pursue co-mediation, you can each choose a mediator that you think will bring a positive and productive perspective to your divorce case.
Keep in mind, just like traditional mediation, your mediators will not make decisions related to your divorce. That is left to you and your spouse. Your mediators serve as a resource of Minnesota divorce law and a provider of support for you and your spouse to facilitate discussion that keeps in mind your priorities and your goals for the process. Creating a positive and safe environment where you and your spouse can have honest and open discussion about the issues that are important to you can make finding common ground attainable.
Experienced Co-Divorce Mediator in Victoria, MN
Complex divorce cases are ideal for co-mediation. If you are facing a divorce and wondering how to proceed, consider reaching out to Jeff Johnson at Johnson Mediation. Jeff has more than two decades of mediation experience and can explain the process for you and help you decide the best way to proceed given the specifics of your case. He offers a free one-hour consultation for individuals or couples to gather more information and ask specific questions. Call Johnson Mediation at (952) 401-7599 to speak with a member of our team.