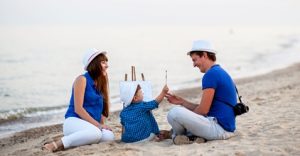 Covid -19 seem's to be slowing down and people are getting ready for traveling and family get togethers. Summer is almost here and if you are like many families, schedules change significantly once school finishes for the kids. It is important to try to avoid conflict with your ex and serious problems with your custody agreement. This may feel easier said than done. Here are some tips for avoiding common custody issues this summer:
1. Communication: Even if you have a provision in your custody agreement about summer, it is always a good idea to sit down if possible and discuss the coming season. As kids age, they become interested in different things and they begin to have opinions about how they spend their time. Use the transition to the summer schedule as an opportunity to make sure that everyone is on the same page. Talk about vacations, camps, and even your opinions about how much screen time your kids should have. Communication is the key to preventing significant conflict.
2. Be aware of the specifics in your custody agreement: When there is a change in schedule, it is always a good idea to go back to your custody agreement to see what is written about these types of issues. Your custody agreement may have language about how to handle custody in the summer, and this is an important part of the process.
3. If your custody agreement is no longer working for your family, you can make changes to it. You are not locked into the language. A mediator can help you and your ex come to an agreement on how your agreement should be amended without going back through the court system.
4. Involve your kids in decisions: If your kids are older, it is always helpful to make sure that they are comfortable and happy with the summer custody arrangement. Some issues may be non-negotiable (like where they need to go while a parent works) but others may have some flexibility. As your kids get older, make sure to include them in the decisions that are made about how they spend their time.
Using Mediation to Manage Custody Agreement Changes
AMS Mediation can help you navigate custody issues during the divorce process as well as after it is complete. It is normal to need to change the agreement over time, and we can help you with that process. Heading into summer is an excellent time to consider changes that meet your current needs. For more information about how mediation can be helpful after a divorce is final, contact us at 952-252-1492.