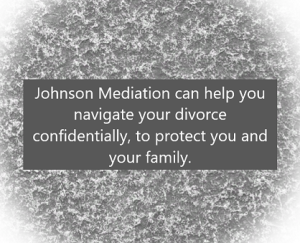 The idea of navigating a divorce can be overwhelming. Every couple out there needs support to be able to get through the process in an even somewhat healthy way. Johnson Mediation focuses on helping couples just like you take the necessary steps to finalize your divorce, without an undue financial or emotional burden. We can guide you through the process, step by step, with the goal of making it easier and less stressful than litigation. Here are a few of the key steps that we can help you with:
1. Communication: Communication with your ex during the divorce process can be the cause of significant stress. Our team can provide you with tools, resources and strategies for positive and productive communication. During mediation sessions, we will facilitate these discussions and also offer divorce coaching for those who might need 1:1 support.
2. Gathering and sharing important documentation: Another huge task to complete for your divorce is gathering and sharing all joint financial documentation. We will give you a straightforward list to follow and provide guidance if you are unsure of what is needed. For example, you will need to be able to locate your income tax returns, employment records, bank statements, retirement balances, information on any loans, as well as a list of joint property you share (cars, furniture, etc.).
3. Minnesota legal process: When you work with a mediation firm, you should feel confident in their knowledge of Minnesota law. Johnson Mediation has many years of experience helping couples in Minnesota through the divorce process and can guide you through this process with ease. The courts actually encourage all couples to try mediation before going through litigation, because of the many important benefits of the alternative dispute resolution technique.
4. Conserving Financial and Emotional Resources: One of the most stressful parts of the divorce process can be the financial burden it can cause – particularly if you go through the courts. Mediation is far less expensive and takes less time than a court battle. As a result, you will be able to move forward with your life more quickly and have less financial and emotional stress.
Navigating The Divorce Process
Johnson Mediation is dedicated to helping couples navigate the divorce process. After all, divorce is not something you want to do once, let alone multiple times, so understanding the process is not important until you are in the situation. You can rely on us to be your guide. For more information, give us a call at 952-401-7599.